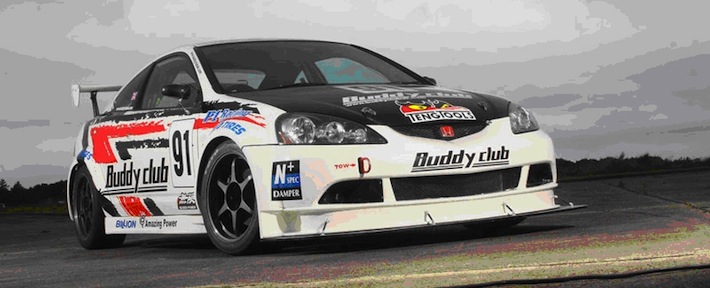 We get asked this question a lot. There are many ways to modify and upgrade your suspension, and the two best ways would be to add lowering springs or a coilover system. The two are very different and there are many factors that determine what would be best for you. Some considerations would be comfort vs performance, longevity, adjust-ability and price. Some customers also do not want to lower their car, but just want to tighten up the suspension and give them added adjustability.
What are coilovers?
When springs are made, they are made into coils, that allow them to compress and retract. Coilovers simply refer to coiled springs that go over a shock. People have referred to adjustable coilovers that allow you to lower your car to your desired height simply as coilovers.
See examples of coilovers here: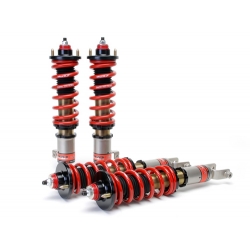 Blackworks Coilovers
BLOX Coilovers
D2 Racing RS Coilovers
Drop Engineering Coilovers
Function & Form Coilovers
Ground Control Coilovers
KSport Coilover Kit
Megan Racing Coilover Kits
Progress Coilovers
Skunk2 Pro S Coilovers
TEIN Coilovers
Yonaka Coilovers
What are the different ways to adjust height with coilovers?
There are two basic ways that manufactures build their coilover systems. One is where you literally need to turn a spring perch to compress the spring against the top hat, which lowers the vehicle. The problem with this is that you are applying pre-load to your springs, so they are already destined to lose handling performance. The other way is when the manufacture threads the actual shock body, so you are expanding or compressing the actual length of the shock that the coilover is a part of. This doesn't affect the compression of the spring, and is a much better way to adjust the height. One benefit to the spring perch type is that you can adjust and fine tune your height without having to take the lower part of your suspension apart.
How low can coilovers lower my car?
This all depends on the brand of the coilovers and depends on your specific car or truck. Most coilovers lower at least half an inch even at their highest setting. The range is usually 3-4 inches and while most cars are lowered around 2 inches, some people who want to take their car to a show, like to lower their car even more to give it a very low, yet not very drivable look. So basically, most coilover systems lower your car more than you need. Some coilovers do allow you to raise your car or truck, for things like rally cross or baja, but those are specifically labeled as for off roading and raising your car.
Full Bodied Coilovers


When someone refers to coilovers, usually they mean the coilover system that comes complete with shocks. This is the most expensive and complete kit and comes with everything. Depending on the car or truck, these usually also come with pillowball top mouts or just brand new aluminum top mounts, and are ready to bolt on. This means you don't need to take your old shock and spring apart to reuse any parts. These coilovers even come with new bump stops specifically designed for the lowered car.
The benefit to these is that they are complete. With sleeve type coilovers (which are described below), you do not get shocks with them, because they are designed to be used with aftermarket performance shocks. The shocks with the true coilover system come set to take the abuse of a lowered car, higher spring rates, and competition use. Unlike weak stock shocks, these will last long and are designed to work with the coilover spring rates.
Sleeve Type Coilovers


The Sleeve type is designed to be less expensive, but give you the flexibility to use the shocks of your choice. Many customers go with an adjustable performance shock such as the Koni Yellows, Tokico Illumina, or non adjustable Skunk2 Sport Shocks. Many of our customers decide to use these with their stock shocks, which we can not recommend. While the shocks might last for a while before they blow out, the shocks aren't designed to be used on a lowered vehicle and usually balance out any handling gains from the sleeve coilover. The exceptions would be cars that come with performance shocks from the factory, such as the Mitsubishi Lancer EVO, Subaru WRX STi and various others.
Drag Coilovers
For those who strictly drag race, there are a few manufactures that make drag coilovers such as BLOX Racing and Progress. These come in either only the rear set, or all 4. However, the rears are set exceptionally stiff to keep the car from shifting weight to the rear wheels during launch. This is usually used on front wheel drive cars that want to keep the front wheels planted to the ground as much as possible to maintain traction.
What about lowering springs?


Some people just want to lower their car, and not worry about adjustability, cost and a stiffer ride. For those, there are companies that make lowering springs. Lowering springs work just like your factory spring except they are anywhere from half an inch to 2.5" or more lower than stock. They have a higher spring rate, and are usually designed to be used with stock shocks, so the spring rates are usually not aggressive. We always recommend a performance shock to go with lowering springs to make sure you get the maximum benefit and only have to do the labor once.
See examples of lowering springs here:
Blackworks Lowering Springs
D2 Racing Lowering Springs
Eibach Lowering Springs
H&R Lowering Springs
KSport GT Lowering Springs
TEIN STech Lowering Springs
Will my wheels rub?
Wheels rubbing is a bit problem for those with aftermarket wheels, tires and suspensions. Some people roll their fenders and that solves the problem. For others it doesn't. If you are rubbing now, you need to either raise your car, or get stiffer springs so you do not rub when going over bumps. If you need a suspension to help you keep from rubbing, we suggest a full coilover system, or a quality sleeve coilover with adjustable shocks. Make sure the spring rates are stiff enough to keep your fenders from rubbing, but not so stiff that you hit your head on the roof over each bump.
Will I need a camber kit?
We recommend a camber kit any time you lower your car or truck. Some of the better full coilover systems come with adjustable pillowball mounts which are the mounts that are on top of the coilover system that bolt into your chassis. They act as a camber kit. In order for the coilover to come with an adjustable pillowball mount, your car or truck would need to have the room for this, and also the coilover would need to be one of the higher end systems as this adds cost to the kit. We recommend camber kits such as the Megan Racing Camber Kit, Buddy Club Camber Kit and Skunk2 Camber Kit.
How do these suspensions stack up?
We are ranking these in order of handling performance. The farther down you go in the list, the better the performance:
- Lowering Springs with Stock Shocks ($)
- Lowering Springs with Performance Non Adjustable Shocks ($$)
- Lowering Springs with Performance Adjustable Shocks ($$$)
- Sleeve Type Coilovers with Performance Non Adjustable Shocks ($$)
- Sleeve Type Coilovers with Performance Adjustable Shocks ($$$)
- Full Body Coilover Kit ($$$-$$$$)
With so many options, brands, and features, it can be daunting to buy the suspension you want. Decide what you want now, and also in the future, and buy the parts you need to get you to that point.
If you have any questions, we can help you determine the best suspension for you. You can either send us an email or post your questions and comments below.